Residential - High Wall Split Systems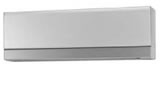 "Batec Air Conditioning have all types of air conditioners to suite your home or business..."
Wall-mounted split system air conditioners are an exceptional choice for those wanting a neat unit that blends unobtrusively with its surroundings. The same advanced technology that makes the indoor unit so compact also makes it powerful, yet extremely quiet, and kind on energy costs.

The pleasing design of the high wall air conditioner also has functional appeal. The smooth surface of the flat panel models can be wiped clean and the flat panel easily removed for more thorough cleaning.

Air purifying filters and innovative air flow systems ensure that fresh, conditioned air flows to every corner of the room.

Manufacturers Technology

Frequently Asked Questions (FAQ)
For more information about high wall air conditioners contact us or click on the manufacturer brochures below to view.


File name:Split System Heating & Cooling
Download size: 1.86MB
Date published:21 June 2012


File name:Toshiba Split Systems
Download size: 11.47MB
Date published:28 November 2012
PDF Reader is required to read these documents.