Company Profile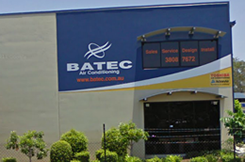 "Batec Air Conditioning is a Brisbane based business that not only services all Brisbane regions but offers services nation-wide too. "
Batec Air Conditioning have been operating out of the Brisbane office specialising in services for heating, air conditioning and refrigeration as well as installation, design, service and repairs since 2002.
Batec began from as little as a concept until founder Joseph Bauer foresaw the growing demand for air conditioning and refrigeration services within the domestic and commercial markets of Brisbane and converted it into an opportunity.
As the demand for air conditioning and refrigeration services increased, Batec Air Conditioning strategically created alliances and placed branches in Launceston - Tasmania, Townsville - North Queensland, Sydney and Melbourne. The branches and alliances created provided continous work all year round and allowed Batec Air Conditioning to have the force work required to conduct the larger projects.
Batec Air Conditioning has now won numerous awards in the air conditioning industry and is one of Australia's top dealers of Daikin, Toshiba, Carrier and Actron Air air conditioners. Batec Air Conditioning continues to strives for excellence with every new project and as a leading competitor of air conditioning and refrigeration services throughout Australia.
For more information about Batec Air Conditioning, download our Company Profile.

COMPANY PROFILE DOWNLOAD

Download file:company_profile.pdf
Download size: 270Kb
Date published:Jan, 2009
Version:2.0
PDF Reader is required to read this document.