Products
- Manufacturer Technology

Daikin Technology
Daikin's advanced technology includes many innovative and patented features that are designed to make our units quieter, more energy efficient, and easier to control.
An easy-to-operate remote control and programmable settings help to ensure the temperature in your home is just they way you like it, when you like it.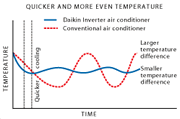 Daikin Inverter air conditioners are more powerful, however, they are also more energy efficient than conventional, non-inverter models. Conventional air conditioners operate at a fixed speed, delivering a fixed amount of cooling and heating. While trying to maintain a set temperature they operate on a 'stop/start' principle.
A Daikin Inverter has a more advanced technology that operates differently. It works like the accelerator of a car, gently increasing or decreasing power. It reaches the desired temperature quicker and steadily maintains it without wild fluctuations. That means uninterrupted comfort and significant savings on running costs.
Daikin Inverter models are incredibly reliable, even in extremes. Your Daikin Inverter's operation is guaranteed, giving you relief even when the mercury soars to as high as 46℃ or falls to as low as minus 10℃ (heating).

Toshiba Air Conditioning Technology
Toshiba invented the inverter technology in 1981. This development was exclusive to the Toshiba DC Hybrid Inverter System, reaffirming Toshiba's capability to innovate and maintain the technology advantage on the rapidly growing air conditioning market.
The inverter technology is prominent in all new Toshiba wall mounted, flooring standing and under ceiling split systems.
Digital technology provides superior control and cost efficiency with the DC Inverter compressor when compared to AC Fixed Speed compressors. A super-accurate rotation of an environmentally sustainable compressor results in power savings of up to 50%* and quieter operation.
Toshiba's DC Hybrid Inverter uses a Twin Rotary compressor**, which ensures a steadier rotation therefore reducing the unwanted vibration sound.
PAM drives high power to ensure the fast achievement of the set temperature.