Residential - Ducted Split Systems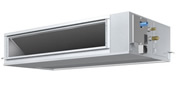 "Batec Air Conditioning have all types of air conditioners to suite your home or business..."
Ducted air conditioning provides climate controlled comfort throughout your entire home or business. A ducted system allows you to air-condition your home or business without having to install the indoor units on your wall which make your home or business look neat and tidy.

The Ducted indoor unit is located within the ceiling or under the floor, with flexible ducting distributing conditioned air through vents located in chosen areas throughout the home or business.

The areas of air conditoning are also controlled by zones to ensure the necessary areas of your home or business are air conditioned or heated.



Manufacturers Technology

Frequently Asked Questions (FAQ)
For more information about ducted air conditioners contact us or click on the manufacturer brochures below to view.


File name:Daikin Ducted Systems
Download size: 1.98MB
Date published:14 November 2012


File name:Toshiba Ducted Systems
Download size: 1.83MB
Date published:10 October 2012


File name:Actron Ducted Systems
Download size: 6.64MB
Date published:3 September 2012
PDF Reader is required to read these documents.