Preventative Maintenance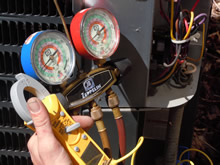 Frequently Asked Questions (FAQ)
"Batec Air Conditioning have can taylor a preventative maintenance plan to suit your home or business air conditioner."
What is a Preventative Maintenance Service?
A Preventative Maintenance Service (PMS) is a Batec Air Conditioning service provided to your home or business to ensure your air conditioning system has scheduled inspections and maintenance of your heating, ventilation and air conditioning.
The Batec Air Conditioning Preventative Maintenance service can be customised to suit your home or business. Batec Air Conditioning offers regular monthly, quarterly, half-yearly or yearly preventative maintenance services at industry competitive prices. For businesses the Preventative Maintenance service is also used as a value added service for the Energy Management Audit.
The results you will archieve from the preventative maintenance service would be the sustaining of peak efficiency, prevent utility over payment and avert system failures through predicitive maintenance which in turn results in the extended life expectancy of your air conditioner.
What should you expect from the Preventative Maintenance Service?
Batec Air Conditioning's will arrange one of their fully qualified technicians come out to your premises and thoroughly inspect your air conditioner(s) by conducting the following:
Check systems functions, safety controls and adjust the operating sequence where necessary.
Inspect electrical components and connections and repair/replace or tighten.
Ensure proper airflow and clean/change dirty filters.
Inspect pumps, lubricate and check flow rates where necessary
Analyze gas levels to determine if the system requires additional