Welcome to
BATEC AIR CONDITIONING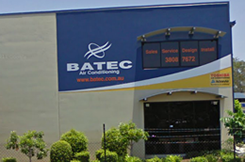 BATEC AIR CONDITIONING BRISBANE
At Batec Air Conditioning, we have the right air conditioner (AC) or air conditioning solution to suit you. We offer sales, installation, service and repair of air conditioners (AC) for ducted, split and VRF/VRV systems.
Batec Air Conditioning services all areas including South Brisbane, North Brisbane, Brisbane City, East Brisbane, West Brisbnae, Logan, Ipswich, Toowomba, Gold Coast and Sunshine Coast.
Batec Air Conditioning supplies only quality air conditioners (AC) including brands such as Daikin, Toshiba, Carrier, Actron Air.
For more information visit About Us
PAYMENT METHODS
We accept cash, cheque, bank funds transfer, VISA, Mastercard and EFTPOS.

SERVICE SPECIALS
GREAT DEALS ON SERVICING YOUR AIR CONDITIONER
Keep your air conditioner in top condition this summer by getting it serviced. Having your air conditioner serviced regularly will sure you get the best performance and reduce your carbon footprint.
Don't wait til it's too late! Enquire now to arrange your service. The areas we service are Brisbane City, South-Brisbane, North-Brisbane, East-Brisbane, West-Brisbane, Logan, Gold Coast, Sunshine Coast, Ipswich and Toowoomba.
Read more...
HELPFUL AIR CONDITIONING TIPS
Here are some helpful tips for air conditioning this summer
1. SERVICE YOUR AIR CONDITIONER
If you haven't yet done it..Get your air conditioner serviced before summer comes. This is the busiest time of year for air conditioning companies, there will be a long delay before you will get your air conditioner serviced. eg - 2-4 weeks in some cases.
2. COOL TO 24
Try to only cool to 24 degrees celius. This will help with your power bill and not place too much load on the electrical grid.
3. KEEP IT CLEAN
Clean your filters accordingly. This will provide better air flow and prevent any unwanted diseases.
THE LATEST NEWS